VA - Fantasymphony (2019) Blu-Ray 1080i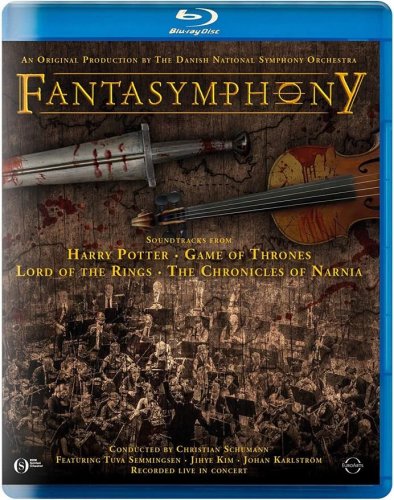 Screenshots:
Setlist:
Roger Tailor
01. A Kind of Magic (Highlander)
John Williams
02. Harry's Wondrous World (Harry Potter)
03. Hedwig's Theme (Harry Potter)
Javier Navarette
04. Long, Long Time Ago (Pan's Labyrinth)
Harry Gregson-Williams
05. A Narnian Lullaby (Narnia)
06. Coronation (Narnia)
James Horner
07. Elora Danan's Birth (Willow)
Russell Brower
08. Invincible (World of Warcraft)
Ruelle
09. Until we go Down (The Shannara Chronicles)
Ed Sheeran
10. Hands of Gold (Game of Thrones)
Ramin Djawadi
11. Rains of Castamere (Game of Thrones)
12. Game of Thrones Suite (Game of Thrones)
oward Shore
13. Misty Mountain (The Hobbit)
14. The Verse of the Ring (Lord of the Rings)
15. Concerning Hobbits (Lord of the Rings)
16. A Knife in the Dark (Lord of the Rings)
Enya
17. May It Be (Lord of the Rings)
Howard Shore
18. The Breaking of the Fellowship (Lord of the Rings)
19. The End of All Things (Lord of the Rings)
Brian May
20. Who Wants to Live Forever (Highlander)
Bonus: Documentary[00:13:09]
Artists:
Tuva Semmingsen (mezzo-soprano)
Jihye Kim (soprano)
Johan Karlström (bass)
Danish National Concert Choir
Danish National Junior Choir
Danish National Symphony Orchestra
About:
Witness a concert experience of magical dimensions, when the Danish National Symphony Orchestra opens the door to a wealth of fantasy universes where dragons and dwarfs, trumpet players and violinists cross blades and sounds in a world of flames and sorcery.
The epic battle of good against evil will unfold, when The Danish National Symphony Orchestra supported by troops of choirs and soloists, perform the greatest compositions from the most legendary fantasy films, television series and computer games. Look forward to an ultimate magic concert experience: One concert to rule them all!
With music from Highlander, Harry Potter, Pan's Labyrinth, Narnia, Willow, World of Warcraft, The Shannara Chronicles, Game of Thrones, The Hobbit, The Lord of the Rings
Info:
Source:
Genre:
Classical | OST
Quality:
Blu-Ray | 1080i
Format:
M2TS | 20.9Mbps
Length:
01:39:25 | 22.0Gb
Video:
H.264 | 1920x1080 | 16:9 | 29.970fps
Audio 1:
LPCM | 1536kbps | 48kHz | 2 channels: L R
Audio 2:
DTS-HD MA | 4374kbps | 48kHz | 6 channels: Front: L C R, Surround: L R
Language:
English

Kod:
Treść widoczna tylko dla członków BlueWarez.pl.
Zaloguj się lub załóż darmowe konto aby uzyskać dostęp bez limitów.
pass: 345
Attention:
Files are subject to expiration and can be automatically deleted if their not downloaded 30 days after the last download.